Quick Bio:
Erin E. Moulton is the author of FLUTTER(Philomel/Penguin, 2011), TRACING STARS(Philomel/Penguin,  2012), CHASING THE MILKY WAY(Philomel/Penguin, 2014), and KEEPERS OF THE LABYRINTH (Philomel/Penguin, 2015). She is also editor of the forthcoming anthology THINGS WE HAVEN'T SAID (Zest/Quirk Books, 2017). Her books have been selected and nominated for national and state award lists, such as the Amelia Bloomer list, the Kentucky Bluegrass Master List and the Isinglass Teen Read Award List. FLUTTER was also a 2011 Kid's Indie Next pick. When Erin isn't writing books she can be found drinking an excessive amount of Barry's Tea, scribbling in notebooks, carving pumpkins, staring off into space wearing her noise cancelling headphones and trying to stay out of mischief without always succeeding. She also works as teen librarian at the Derry Public Library where she maintains a collection of awesome YA books and leads teen programming. Erin loves fostering new voices, which makes her an active school visitor, mentor and workshop leader to writers of all ages. She is a proud VCFA alum, as well as a teen advocate, a humanist, a feminist, and a would-be philanthropist if she could find any extra dollars. You can find her online at www.erinemoulton.com
Long Bio:
My mother was struck by lightning when she was pregnant with me(or so the family story goes :). To make matters worse, I was then born on Halloween Night. I was strange from the start. As a child I was fairly quiet. You could often find me playing with my imaginary friends (Marnie and Katyan Babyan) or nestled up with a good book. My imagination, for better or worse, got big and could be used for good or evil. The good: I could imagine a dried riverbed into a beautiful lagoon. I talked to the trees and am almost certain they talked back. I changed my name to Griffin Halfshadow Monaharie Warrior Princess and wore a tunic to school for the  better part of a year. The Bad: My first memory is of three pterodactyls flying over the preschool playground. Pterodactyls can be dangerous, in case you didnt know, and I thought I might get separated from the pack. At Sunrise School pick up, I was afraid someone would dress up as my parents to come and pick me up. Also, I'm 99.9% sure that there was an elastic zombie hand in the basement. It didn't come out until you turned off the light, then it would slingshot its way from its spot near the laundry basket(and beyond, the dark underworld), ready to snatch you if you didn't make it to the landing on time. I wasn't much of a runner, but I set my eye on that 7th stair and moved.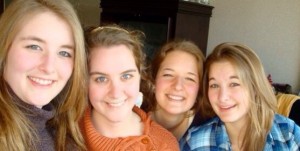 I grew up on a mountain in Vermont. You will see that my childhood home plays a big part in my stories. Sisters also may play a large role. I have three sisters and they have always been a great source of inspiration to me and my writing. Among them, a scholar, an athlete and a born nurturer.
I have always written stories. In 2nd grade, I worked on a "book" with my best friend, Kim. We wrote upwards of 60 pages of a story entitled "The Two Orphans." I did the writing and Kim designated herself the illustrator. Writing never left me after that, though I did take a minor detour in high school and college. The fact of the matter is that I simply didn't think I could make a living as a writer. So I decided to pursue my second passion, lighting design for the theater….I know, why would I think that a career in the theater, of all places, would be more lucrative than a career as a writer?? In my senior year at Emerson, I realized that I needed to take a writing class. I stepped into fiction 101 and woke up. I soon applied to the Vermont College of Fine Arts MFA in Writing for Children and Young Adults Program. I plunged into my MFA, all the while trying to support myself with my alternate arts degree. They were colorful times, to say the least, but it didn't take long for me to realize that writing was my heart. To fully follow my dream, I let my theater aspirations go and headed into the work force, so I could more fully concentrate on my writing.
I have worked as a librarian, a tutor, a lighting designer and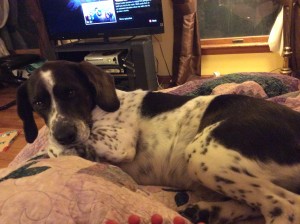 technician, and as Northeast Area Director for Springboard After School. I am currently the YA librarian at the Derry Public Library. I live with my husband, son, and pups. I can be found drinking an excessive amount of Barry's Tea, scribbling, starting project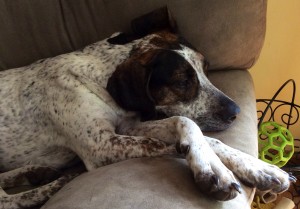 s and never finishing them, carving pumpkins, cuddling with one oversized dog or another, clipping herbs out of the garden, trying new Greek recipes and trying to stay out of mischief without always succeeding.