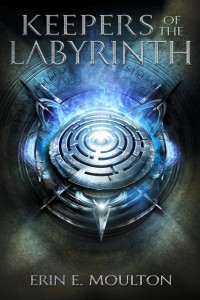 "Greek mythology provides the frame for this exciting amalgam of action, friendship, and girl-detective fiction. In a refreshing departure from the norm, here is a fully fleshed page-turner of a girl-quest without a hint of romance—just smart girls unraveling the mysteries of the maze while trying to stay alive. There are STEAM connections aplenty…Try this with graduates of Rebecca Stead's When You Reach Me (2009) or the 39 Clues series; and for readers who want to chase the mythology, this can follow Tracy Barrett's Dark of the Moon (2011)."–Cindy Welch, Booklist Online
"Secret societies, mythology, and puzzles worthy of a Dan Brown novel all figure prominently in this thriller. There is much to recommend this book: all the protagonists are empowered female characters, it explores the idea that behind the stories of classical Greek mythology is a history of real people, and it is filled with exciting action…there is definitely an excellent set up for sequels."—VOYA, Sean Rapacki.
"VERDICT Secret societies, Greek mythology, and a group of strong female characters are all wrapped up in a mystery which will hit the mark with readers who have finished Rick Riordan's "Percy Jackson" series (Disney-Hyperion)."–Stacy Dillon, School Library Journal.
Synopsis:
Courage is tested, myths come to life, and long-held secrets are revealed
Lilith Bennette runs at midnight. She scales walls in the dark and climbs without a harness. She hopes that if she follows exactly in the steps of her strong air force pilot mother, she'll somehow figure out the mystery of her mother's death—and the reason why her necklace of Greek symbols has been missing ever since.
So when Lil is invited to Crete for a Future Leaders International conference, the same conference her mom attended years ago, she jumps at the chance to find some answers. But things in Melios Manor are not what they seem. Lil finds herself ensnared in an adventure of mythological proportions that leads her and her friends through the very labyrinth in which the real Minotaur was imprisoned. And they're not in there alone. What secrets does the labyrinth hold, and will they help Lil find the truth about her mother?
This book is perfect for older fans of Percy Jackson and the Olympians and the Heroes of Olympus–and anyone who wants to find out the true story behind the magic of the Greek gods.
*Isinglass Nominee 2016-2017