THINGS WE HAVEN'T SAID is an anthology about sexual violence, written for teen readers, slated for publication in Winter 2018. The book will be published by Zest Books.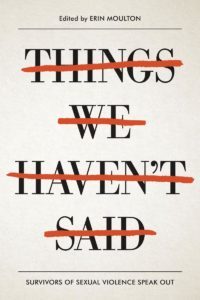 Contents Include:
Foreword by Sharon Lamb, EdD, PhD
Introduction
Ella Andrews
"Your Voice"
Ella Unfiltered: Words and Refuge
Dina Black
"Letter to the Deacon"
Dina Unfiltered: Hurt People Hurt People
Imani Capri
"Woman-Up"
Imani Unfiltered: Unstoppable Grace
Jennifer Carmer-Hall
"Saturdays"
Jennifer Unfiltered: Unpacking Truth
Joan Clare
"I Want to Stay Alive"
Joan Unfiltered: Love, Sister, It's Just a Breath Away
Jane Cochrane
"Reclamation"
Jane Unfiltered: Redemption
G. Donald Cribbs
"Pinball"
Donald Unfiltered: On Resilience
Maya Demri
"Dear Diary"
Maya Unfiltered: I Am Free
Aaluk Edwardson
"Where I Go When I Go Away"
Aaluk Unfiltered: Unfreezing
Sharon Abra Hanen
"In a Series of Silences"
Sharon Unfiltered: Support System
Janet Goldblatt Holmes
"Language of Dance"
Janet Unfiltered: Layers
Carrie Jones
"Hummingbird Hearts"
Carrie Unfiltered: Good Friends and Bad Poetry
Laura Kelly
"Pearls of Wisdom"
Laura Unfiltered: Life Is Good
Aster Lee
"I Know"
Aster Unfiltered: Sister Solace
Allison Maloney
"Sleep Well"
Allison Unfiltered: Feminist Refuge
Melissa Marr
"Things I Haven't Said"
Melissa Unfiltered: Fight for Yourself
Bryson McCrone
"Finding What's Good"
Bryson Unfiltered: There Will Always Be Happiness
Barbara McLean
"Never Stop Rebelling"
Barbara Unfiltered: Then and Now
Stephanie Oakes
"The Interrogation Room"
Stephanie Unfiltered: It Wasn't Your Fault
Larena Patrick
"Little Girls"
Larena Unfiltered: Knowing the Signs
Shanyn Kay Sprague
"The Letter I Never Sent"
Shanyn Unfiltered: Hard Conversations
Misha Kamau James Tyler
"Doll House"
Misha Unfiltered: Safe Spaces
Susan Vaught
"A Word"
Susan Unfiltered: Stay Alive
Linda D. Wattley
"First Memory"
Linda Unfiltered: Embrace Yourself
Carol Lynch Williams
"Heart"
Carol Unfiltered: Justice Was Served
Statistics
Words and Terms
Online Resources: Organizations and Advocacy Groups
Hotlines
Bibliography
Copyright
Net proceeds of this work go to charity.