THINGS WE HAVEN'T SAID is an anthology about sexual violence, written for teen readers, slated for publication in Spring 2017. The book will be published by Zest Books.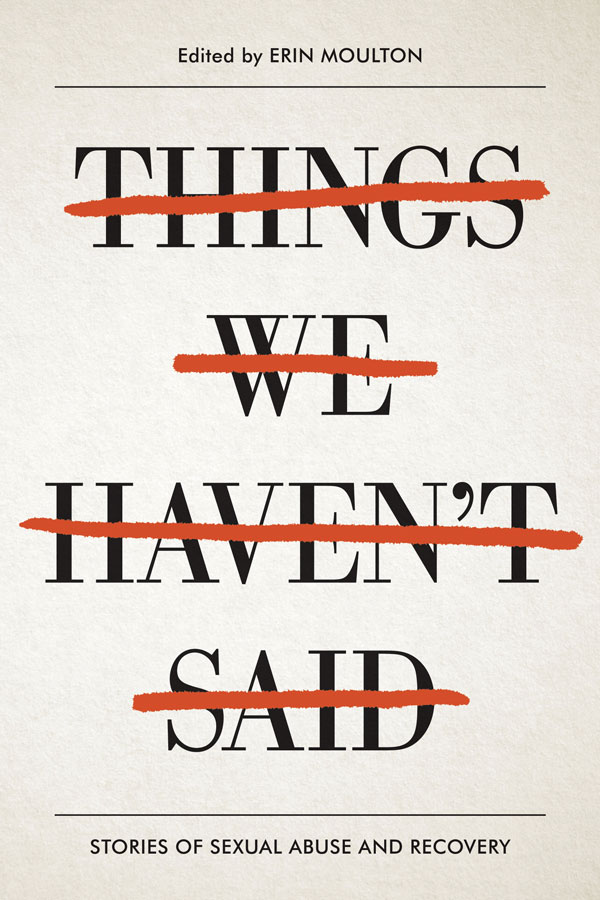 Forward Sharon Lamb, EdD, PhD

Letter from the editor: Erin E. Moulton

Coach Couture by Misha Tyler
Crossed Conditions by Joan Clare
Dance by Janet Goldblatt Holmes
Dear Diary by Maya Demri
Heart by Carol Lynch Williams
Hummingbird Hearts by Carrie Jones
In A Series of Silences by Sharon Abra Hanen
Interrogation Room by Stephanie Oakes
Letter to the Deacon by Dina Black
Little Fish by Bryson McCrone
Little Girls by Larena Patrick
Little One by Aster Lee
Naked Pinball by G. Donald Cribbs
Never Stop Rebelling by Barbara McLean
Pearls of Wisdom by Laura Kelly
Rainbows by Susan Redmond Vaught
Reclamation by Jane Cochrane
Saturdays by Jennifer Carmer-Hall
Sleep Well by Allison Maloney
Triggered by Aaluk Edwardson
The Letter I Never Sent by Shanyn Kay Sprague
Things I Haven't Said by Melissa Marr
When You Don't Know by Linda Wattley
Woman Up by Imani Capri
Your Voice by Ella Andrews
Glossary of Terms
Resources for Teens
Statistics
Contributor Bios
Acknowledgments
Frequently Asked Questions:
1) Why are you the one running this project?
I am a children's book author, a youth librarian and teen advocate. I find books to be a very effective springboard to conversations in real life, and I think that we need a way to discuss sexual violence in the classroom (and out) through short, true and engaging stories. As a public service librarian, I have an interest in humans and helping. In fact, I've been a helper for as long as I can remember. I find pen and paper to be my most useful weapons and I love fostering new voices. I'm here to do just that. Advocate, foster, help, edit, and slingshot this into reality. And organize. Of course, to organize.
2) Why would you want to write a book about sexual violence for teen readers? Shouldn't we protect youth from this topic?
Did you know that 44% of sexual assault and rape victims are under the age of 18(View more statistics here)? Teens are impacted by this issue in real life, therefore, it is my belief that we cannot protect them from the subject by limiting information about it. It is my hope that we can use this book as a springboard to have discussions about sexual violence, enhance awareness, diminish stigma and provide valuable resources to those who need it (which is everyone).
3) Who is the publisher for this anthology?
Thanks for asking. Zest Books is the publisher. Some of my favorite books that they have worked on include Dear Teen Me and Unslut. You can check out the other beautiful books they produce here.
4) Do the anthologists get paid for this project?
The stories in this anthology have been donated and the net proceeds of the project are distributed between RAINN and Voices and Faces Project in an effort to support other survivors.
5) How dare you?
Oh, I dare. Do you?